Any time you step outside to participate in a given physical activity, it's fair to say that
there will be some element of risk involved. When that activity is winter running on a crowded, narrow path, the risk is that much greater. It is this notion of risk — and ultimately responsibility — which has been brought into question by a recent lawsuit.
You may have read about the group of Ottawa area runners, who along with the Ottawa Lions track and field club, are implicated in a lawsuit launched by Ottawa resident Mimi Lepage — my brother Jon and I were part of this group (read National Post article here). Ms Lepage claims to have been knocked to the ground in a collision along the Rideau Canal involving our group and, subsequently, to have sustained physical and mental trauma resulting in missed work time, surgery, an inability to run or compete in road races, and a lack of care, guidance and companionship for her nine-year-old son. The claim, in the amount of $350,000, alleges that our group showed negligence by moving at an unsafe speed along the Canal running path and that we failed to properly alert the plaintive as we approached. Ms Lepage claims that she was owed a 'duty of care' and that, in essence, it is not a safe practice for blind runners to run on public paths.
Various iterations of what actually happened have been swirling around evoked pretty strong reactions. Most of those reactions have been very supportive of our group – particularly the Ottawa running community. Some of the online feedback has crossed the line, however, into derogatory insults directed at Ms Lepage. This isn't something we condone in any way. Although we feel the allegations are misleading and unfair, they do not warrant a personal attack against Ms Lepage. We hope that, in due time, the facts of what happened will speak for themselves.
Here are the facts as I understand them.
The long Sunday morning run is a staple in the training program of many middle and long distance runners. Running as a group provides company and addresses the isolation many runners experience after miles alone. For a blind runner, such as myself, running while being guided by others is a prerequisite to participating in the sport. In fact, guide running was a routine activity within our Sunday running group. Since moving to Ottawa in 2003, I had been guided, at one time or another, by every athlete within that group. Each of these runners was in his thirties or early forties, experienced with guiding, competent, responsible and aware of his surroundings.
In the winter of 2010, there was a group of up to ten of us who would run on Sunday mornings – usually we would meet at my house at 8:30 and most days we headed to the Rideau Canal as the footing was relatively good along the Canal running path. January 24, 2010 was no exception. On that Sunday morning, there were about eight of us who headed out for our customary run including my brother Jon guided by Jamie Stephenson — an experienced guide who I had trained with in previous years.
On that particular day, what I remember is that, after about 20 or 30 minutes, our group was a little strung out. I was at the front of the pack with my guide. We ran in a line like this so as not to take up too much space on the narrow Canal path. We were moving at a steady pace, not fast. From time to time, we would slow down to pass other runners.
At one point, the guys behind yelled at us to hold up. I remember stopping and turning around. I couldn't hear much because we were ahead and I may have been wearing a tuque. There was a collision behind us involving my brother, his guide and another runner. Although Jon and Jamie recounted the story afterwards, at the time of the collision I heard very little other than muffled voices. My understanding of what happened is therefore second-hand.
Jon and Jamie had been at the back of the group. It seems that most of our group had passed Ms Lepage but, somehow, my brother and Jamie were involved in a collision with her and she fell to the ground as did Jon. We are not sure if Ms Lepage assumed that our entire group had gone past and had therefore moved back over on the path. As mentioned, Jamie is an experienced guide and I have literally run hundreds of miles with him without an incident such as this. Knowing Jamie, it is difficult to imagine that he could have been at fault.
My brother and Jamie said that Ms Lepage responded angrily, swearing at them and yelling that they should "watch where the hell they were going". Jamie told her that Jon was blind. At that point, they said her attitude totally changed and she became extremely apologetic and burst into tears. After a minute or two, I understand that Ms Lepage, and the friend she had been running with, walked away. I remember that our group gathered ourselves and resumed running. We were struck by Ms Lepage's intensely emotional reaction as recounted by Jon and Jamie, which had morphed from anger and insults immediately after the collision to apologies and remorse when she learned of Jon's blindness. The whole incident seemed a little quirky but we soon forgot about it… until recently.
In January 2012 — two years after the incident —my brother received the first in what has become a litany of claims related to this case. In the ensuing days, his guide Jamie, the Ottawa Lions track and field club and myself were served with papers. Seven other John Doe's have been named and will be issued with individual statements of claim pertaining to their alleged involvement. The claim asserts that both Jon and I were involved in the collision and it goes so far as to say that our entire running group landed on top of the plaintive. Among other things, it accuses our group of negligence, improper training of guide runners, running at excessive speeds and generally insinuates that it is not safe for blind runners to train on a public running path.
There is a two year window of time following an incident such as this within which a person can initiate a litigation. This lawsuit was launched just within the two-year window, which raises the question of why the plaintive waited until the very last moment to move forward with her claim. Under our legal system, Ms Lepage was entitled to initiate the process at any point within the two year timeframe, so perhaps her decision to wait until the very last moment is neither here nor there. There is no doubt that the collision took place and my brother and his guide have never denied their involvement.  In fact, they feel very badly for Ms Lepage and any injuries which may have befallen her. But there are a number of other issues which we hope that, in due course, will be addressed.
Ms Lepage cites excessive running speed at the time of the collision. One of the runners in our group was wearing a Garmin at the time. In the 40 seconds prior to the collision, he notes that the group's running speed slowed from a pace of 4:11 per kilometre to 4:48. This significant reduction in pace indicates that the group slowed down in response to traffic on the running path, an indication that due care was in fact taken. Most of our group members moved safely past Ms Lepage. Remember that I was also in the group running with a guide. Ms Lepage alleges that guides were not adequately trained, but the fact that my guide and I were able to pass her incident-free puts this claim into question. As mentioned earlier, my brother's guide is one of the most experienced guides around, so alleging that either of the runners who were guiding that day were untrained is a weak argument. Or to put it another way, its impossible to say whether any kind of formalized guide training would have led to a different outcome.
[Check out Jason in the Canadian Paralympic Committee's ad campaign!]
But quite apart from the collision itself, which no one is denying took place, there are questions about the extent to which it caused the injuries allegedly sustained by Ms Lepage the amount of compensation she is entitled to. Running is an impact activity which invariably leads to injury at one time or another for those of us who do it long enough. An avid runner and a participant in local road races, Ms Lepage would likely be all too familiar with the wear and tear that running inflicts. Were the injuries she references in her claim a direct — or even a partial — result of the collision? Or were they related to overuse? Was the collision exclusively responsible for a chain of events culminating in lost work time (Ms Lepage is trained as a lawyer and works as an executive director with Treasury Board) and a lack of care, companionship and guidance for her son?
Another issue raised by the claim — Ms Lepage alleges she has been unable to run at all or to participate in any road races since the collision. However, a Google search reveals that, in April 2010 (three months after the collision) Ms Lepage participated in the Run for Reach 10 kilometre road race and finished 53 minutes, 54 seconds. This time is comparable to other race results recorded by Lepage prior to the collision. The SportStats website listing these race results also has a number of pictures of Ms Lepage in action at the event. The fact that Ms Lepage raced three months after the collision seems to contradict her version of events and raises serious questions about her credibility.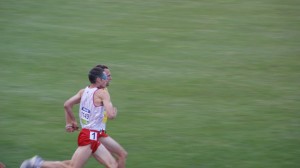 In a way, this whole thing has dampened my (perhaps naïve) trust in the integrity and goodness in human nature. Whatever happened to accidentally colliding with a person on a ski hill, getting up, shaking it off and going on your way? I've probably bumped into dozens of people— and been bumped into as well— and the concept of suing or being sued has never come to mind. Although this incident may sadly discourage prospective guide runners from coming forward to help a blind runner, I like to think that most people will see through what has happened here and will choose instead to an experience which is mutually fulfilling and very meaningful. It turns out that Ms Lepage is herself trained as a lawyer. With her claim, she is implicating an entire group of runners on a basis of  negligence, improper training and she is casting a wide net in the hopes that she can attach culpability to one or more of our group members for damages she feels she is owed.
Yet in as much as I feel jaded, the outpouring of genuine, heartfelt support we have had in response to this crazy story has been absolutely tremendous. I'd like to sincerely thank those people who have been there for us through this. We have had offers to help fundraise to pay for our legal defence, as well as oodles of professional and well-meaning advice. And we have had guide runners come out of the woodwork to express their support and continued commitment to helping visually impaired runners. In fact, the organizers of the Ottawa Race Weekend have agreed to add a visually impaired category to the 10 kilometre race at this year's event — this is going to provide a great opportunity to showcase blind and visually impaired running as the safe and transformative activity that it is for its participants and those around them.