By Kevin Priebe
At a get together a few weeks ago, the family suddenly mobbed me wanting to know what I've been up to. 'Aren't you to old to be a Para athlete?'
'Well,' I told them, 'most of my time is spent in team training sessions, going to events/ racing, working in the shop, at the gym and relaxing with my dog Happy.'
It's a question I get asked a lot these days.
After giving a presentation at a local school board meeting updating them on MACAI's (the Municipal Advisory Committees on Accessible Issues) completed tasks, agenda for the year and some new projects that are being put forward, I talked briefly to the local reporter after. He later printed an article about my ambitions….
You see, I made a plan in my mid twenties that I would train hard. I had lost a lot of weight and all of my strength after my accident. Having recently broken ties with my long term girlfriend, I just decided it was time – I needed to learn to fend for myself again. It's been a long process.
I started a salon downtown with an uncle – an amazing amazing artist – flamboyant as hell and fun to be around. There was this great energy – I felt alive again! I went through my lifesavings trying to make this dream reality. I thought I could make it happen. Wow. I was so naïve, so easily deceived. The dream lasted about four months and ended with him and his partner assaulting me in the shop… taking my chair away and cleaning the shelves of the inventory. In the process, I had also wrongfully blamed an employee of stealing. We ended up in court a while later – forced to sit there and listen to the opening statements that included the delusional ramblings of a mad man threatening my family and I. The case was dismissed; The judge shook his head in disbelief and told me I needed to be more aware of the intents of others. The man passed away not long after but the effects on the incident on my family (and their attitudes towards me) are still evident. Some seem disgusted that I let such a thing happen.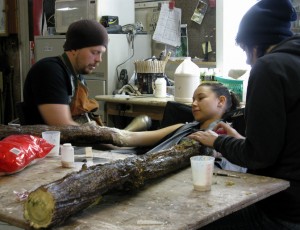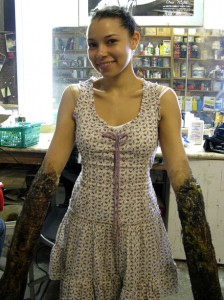 But I'm not easily beaten down. Two weeks after my accident, Dr. Dvorak approached me apologizing for not noticing that my spine had actually fractured and they didn't see it during the first assessments… and that my spine had actually fused out of alignment. Within hours, they were prepping me for spinal straightening. The sides of my head were shaved, a cranial clamp was put on, and my arms and chest were tied down. The doctor pulled out this old hand crank drill. They applied freezing to the area though I wasn't allowed any pain medication. I told him to wait as I would send my father home to get a portable drill…. I think he thought I was joking. The pain was unbearable…. the screeching sound, the vibrations of the drill boring into my scull… I could feel every turn of the handle and the smell…. I think I passed out as I remember waking up a week later. When they were starting to wean me off morphine, I came to a realization of the pain that I was being forced to endure. There were two metal pins threaded into my skull and a clamp and cable attached to it. Off the end of the bed there was a stack of weights intended to straighten my spine.
It was a hard time for everyone… my father was often found sleeping in the bed beside mine.
"It was marginally successful," the doctor apologized again, "We got you within 30 degrees of normal to the front and 10 to the side, we find this an acceptable perimeter". He concluded with, "You should have a long and prosperous life." I tried though I never felt right and some 5 years later I was back. This is around the time my training started. I didn't want to be that frail reflection of what I once was. This time they reset my spine and fused the bones with a mesh and titanium rods. Recovery was somewhat sketchy but I was strong…. the week before I had had an argument with my philosophy TA in class regarding my spelling on an assignment. When I informed her that I would be taking a leave of absence, she went off the handle asking me why would I ever sign up and leave school midterm. It perplexed me why the things I endured would somehow cause her such distress. I said good by to my class and never returned. It was at that moment that I realized the answers that I was seeking weren't in a class- they were with in myself. I just hadn't realized what it was that I wanted.
The recovery this time was much easier. I was back at the gym training harder than ever.
Shortly after the salon had closed down some friends had suggested that I go to beauty school. Why not? I've always done what I'd thought needed to be done; maybe it was time for me to listen. Who would have ever thought that beauty school would be so great…. It had been a long time since I remembered being so happy!
Dedicating all my time and energy to things I enjoyed, I finally excelled. This is the lesson I learned – give 100 percent all the time. The movie industry isn't always the friendliest place to be in a chair. But I believe that if we dedicate and focus ourselves towards a goal, we can achieve what we want. The real questions for me know is can I put in the 10,000 hours needed to be an elite para-athlete? After three years of hard work in a sprint boat (kayak), I am no longer using pontoons and my pace is starting to pick up and so is the intensity. It hasn't been as easy road. My coaches have pushed me hard – and changed my way of thinking. I am on the path now; it is in my hands. I'm building my own sports equipment and I have a strong desire to achieve the goals set in front of me. No one can help me better than I can help myself. And this year I took on a new challenge and joined the Nordic Racers Para-Nordic team for winter training.
If there is one thought I would like to leave everyone who has taken the time to read this with, it's that the life worth living is the one in front of us.
Andrea: I met Kevin when he joined our ski team and I'm so glad he offered to write a post for AthletesFirst. I'm not exactly sure what readers will take from it but for me it was a good reminder that sometimes we have false starts before finding our paths.